Due to the size of the Raspberry Pi and the necessary accessories, TorBox is very easy to use on the road. Below, we show you the recommended minimal accessories for portable use. Nevertheless, all the stuff still fits into a waterproof, compact plastic container. The one shown below was purchased from Ikea for only about $2 (here and here).
• • •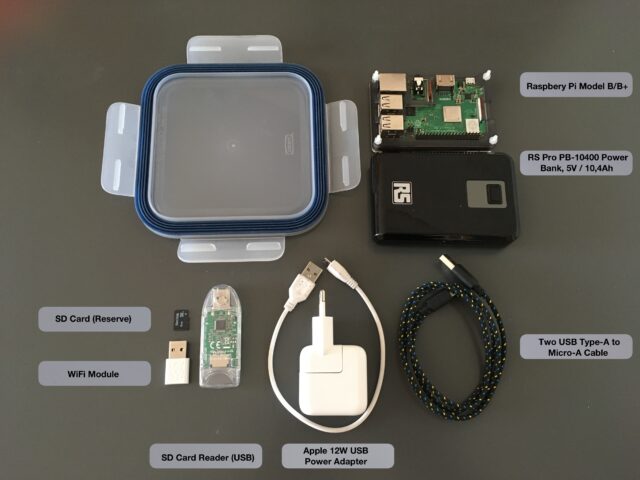 • • •
• • •
Addendum
The RS Pro PB-10400 Power Bank, 5V / 10.4Ah shown in the pictures may no longer be available. The Ansmann Powerbank 5V / 10.8Ah mini black (about $20) can serve as an alternative. If you use a Raspberry Pi 3 B+, the selected power bank must have a high capacity (10.000 Ah or more) and an output power capability of at least 15 W (5V x 3A).
Even if a Raspberry Pi 3 B possibly has a lower network performance, currently, we recommend selecting that Raspberry Pi variant, if you want to run it stable on a power bank.
The reason for this is the lower power requirement (see this Raspberry Pi 3 B+ Review and Performance Comparison and this Power Consumption Benchmarks). Because of a flaw in how the USB-C power input is behaving, currently, the Raspberry Pi 4 B does not work with most third-party power adapter and Power Banks. To avoid all these problems, alternatively, a Raspberry Pi 3 B+ or Raspberry Pi 4 B can be equipped with a PiJuice, which in turn can be connected to an ordinary Power Bank. With the Pi Juice alone, TorBox can be operated for an estimated 1-2 hours, depending on the load.
I like the 12W USB Power Adapter by Apple, which is more compact than the one from the Raspberry Pi foundation. However, depending on the situation, I had very mixed results. With a Raspberry Pi 3 B+ or a Raspberry Pi 4 B it is recommended to use the official power supply or at least one, which provides 5V and 3A (15W).