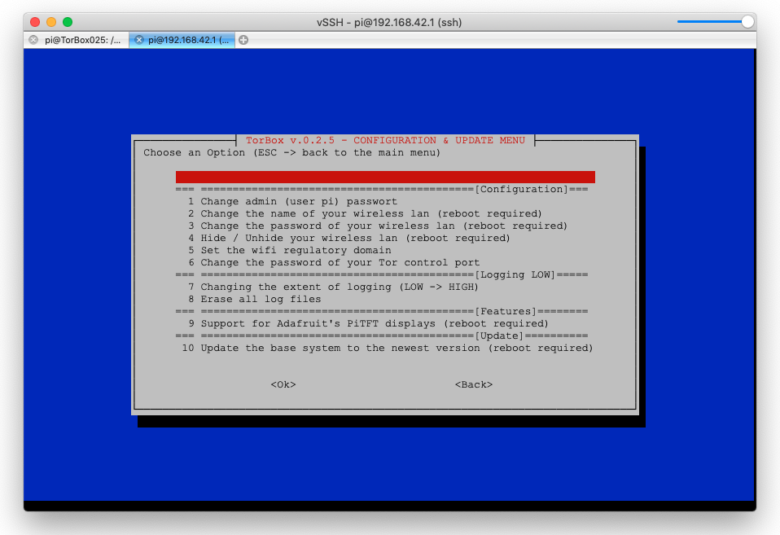 The primary purpose of this submenu is to offer a simple way to configure your TorBox. In this submenu, you also find all the necessary entries to change the default passwords. You should do that as soon as possible — check the red colored menu entries below. In the following, we look at all menu entries one by one:
Menu entry 1: Change admin (user pi) password

: That's the

first

thing you should do!
Menu entry 2: Change the name of your WLAN: Depending on your environment, it could be a good idea to camouflage your wireless network with an appropriate name. A reboot is required to take effect.

Menu entry 3: Change the password of your WLAN

: That's the

second

thing you should do! A reboot is required to take effect.

Important: Only letters (upper and lower case) and numbers are allowed. The length must be between 8 and 63 characters.
Menu entry 4: Hide / unhide your WLAN: If you choose "hide", then TorBox sends empty SSID in beacons and ignore probe request frames that do not specify full SSID. In other words: to connect with your wireless network, the full name of that network has to be known.

Menu entry 5: Set the WLAN regulatory domain. This may enable the 5 GHz band

: That's the

third

thing you should do! By default, TorBox WLAN regulatory domain is set to global (or in other words: unset). Usually, this is not a problem for wireless networks on the 2,5 GHz band. However, all usable frequencies in the 5 GHz band have the no-ir (no-initiating-radiation) flag set, which prevents TorBox from using them. To use the 5 GHz band on a USB WiFi adapter, which supports this band, you have to set the country-specific WLAN regulatory domain. The corresponding two-letter country code can be found in this list. We are looking forward to making this procedure more user-friendly in one of the next TorBox releases.
Menu entry 6: Change the password of your Tor control port: The control port is used for controlling Tor, usually through other software. To change that password is usually not necessary.

A portion of Tor's log file (/var/log/tor/notices.log) when logging is set to "low".

Menu entry 7: Changing the extent of logging: By default, TorBox reduces logging to a minimum. However, the protocol function for Tor remains activated so that the correct function of Tor can be determined. Tor ensures that no sensitive information is leaked into the log files. For detailed troubleshooting, the log function can be set to "High", which effectively means that the normal log function of the operating system is activated.
Menu entry 8: Erase all log files: It does what it says.
Menu entry 9: Support for Adafruit's PiTFT displays: To combine the Raspberry Pi with a PiTFT 3.5″ resistive touch 320×480 from Adafruit is a nice way to show the real-time statistics (main menu entry 1) on your TorBox (for more see here). Adafruit's TFT screens are widely used and are therefore included in the configuration menu. On request, we are happy to support other widespread small screens for the Raspberry Pi. A reboot is required to take effect.

Menu entry 10: Update the base system to the newest version: This updates your base system (Raspbian), if available with the actualized firmware for your Raspberry Pi, Linux kernel, and Tor. To ensure that you have installed the latest stable release of Tor, we do not update Tor from the packages available in the Raspian repository. Instead, we compile it from the source. However, at the moment, the TorBox menu itself will not be actualized; we are looking forward to adding this feature in one of the next TorBox releases.

Important: The update procedure can last up to 60 minutes. Don not remove power from your TorBox during the update. If you close your terminal or if you lose network connectivity to your TorBox during the update process, stay cool. The update runs within a screen session, meaning that the update is completed even if the terminal is closed. After waiting several minutes, you can re-attach your terminal with the screen session: Log into your TorBox; leave the menu with the ESC key; and at the command line execute the command "screen -x". A reboot is highly recommended and necessary to load a new kernel.
• • •
Problems and questions